Opening and closing your car doors can be a hassle in a parking lot. You must be very careful not to hit the vehicle next to you.
Closing a car door against a neighboring vehicle can be a costly expense, but fortunately there are ways around it. The car door dent protectors can prevent unwanted dents or paint chips and protect your door in the process.
The car door dent protectors are accessories that help care for and maintain your vehicle in good condition. As well as, it helps prevent you from hitting other vehicles when opening your car.
They are very practical to put on and take off. They also provide a more modern and personalized look to your car. However, there are different models and brands on the market that adapt to the vehicle protection needs of each user, so below, you will find characteristics of each one to help you decide. Check out our guide for some of the top door edge protectors to consider.
What is Car Door Dent Protector?
The way in which these accessories protect your vehicle may vary depending on their design since there are side protectors that are installed on the edges of the doors or those that are placed on the bottom of them as happens with magnetic tapes and strips, there are even some that almost completely cover the doors.
The selection of them varies according to the preferences you have. It is for this reason that in our TOP 6 we bring a quite varied selection to help you choose the best one for you, choosing from the cheapest, the best-selling, with magnetic tape, the high-quality one and the one with assorted colors.
Summary of The Best Car Door Dent Protector
The Best Car Door Dent Protector of 2023 : Buying Guide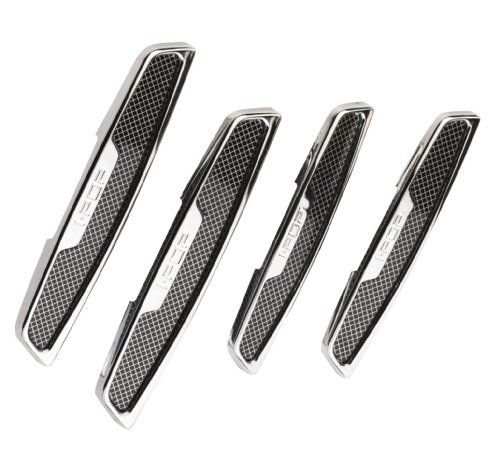 They are protectors created under the prestigious manufacturer and distributor Grupo Sumex , which in turn is in charge of distributing its products to brands such as Car +, Racesport, Butzi, Acquamax, Husky, Mr. Leen and Pulse. It is this opportunity, they come in units of 4 excellent if your car is a four-door.
SUMEX Dgp1000 protectors are of good quality. You will not have to worry about if they fall off since they are strongly adhered to the surface of your car with the help of its self-adhesive (3m) for a better fixation even after several pressure washes, they still remain in place.
The design of these protectors gives your car a more sophisticated air given its gray color suitable for any type of car regardless of the color it has, since it has a carbon look for greater resistance, even in bad weather and also helps to have a more aesthetic appearance on your car.
Installing SUMEX Dgp1000 protectors is very simple; so you won't have to worry about placing products or using additional tools. Likewise , it has protection for blows with which they will help to be more durable .
TECHNICAL DATA
Dimensions 9 x 1.5 cm
Weight 118 g
Pros
They have good design and elegant appearance
They are resistant even after several pressure washes
They are strongly attached to the surface of the car door
They are self-adhesive
They are charcoal look
Comes in a set of 4 units
They are easy to install
Good shock protection
Cons
May be a bit small for some users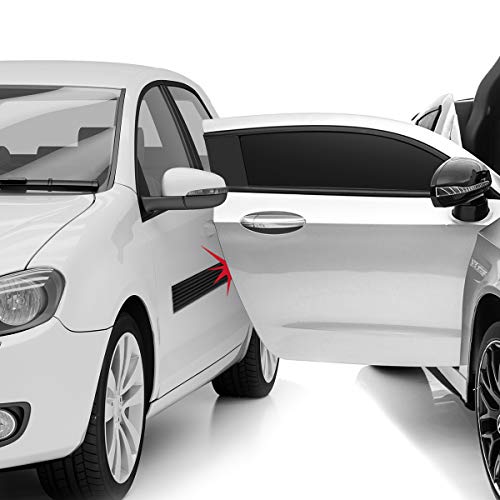 Another option to protect the doors of your car are these fabulous magnetic strips. They come in black to match your car in addition to providing a robust appearance to your vehicle and best of all, you can adjust it according to its length .
You will be able to park your car with peace of mind and confidence, even in confined spaces without worrying about your doors being accidentally hit, helping to protect the paint and possible bumps that are formed when opening the doors and hitting another car.
The Xcellent Global magnetic protective tape has a length of two meters which you can more easily adjust to your car occupying the length you want or that the vehicle has. You can cut it yourself into several separate pieces to place it not only on doors but also on furniture.
The Xcellent Global is easy to install and cut as it is very handy. It is a product that can adhere to the door of your car just by sliding it since it includes a magnet and adhesive tapes to place or remove it if you wish without it deteriorating.
TECHNICAL DATA
Length 2 meters
Weight 318 g
Pros
The glue of the adhesive leaves no residue
Easy to install and remove
Can be adjusted according to the desired length
Comes with masking tape and magnetic tape
Good shock protection
They are very resistant
Cons
Can be removed too easily
Its adherence is not that strong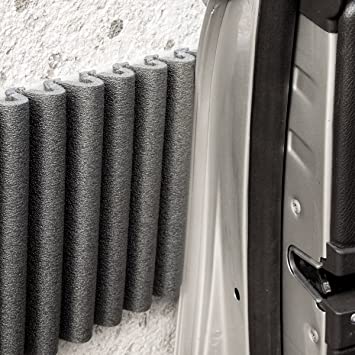 We continue with this alternative that works as a bumper that protects the doors of your car thanks to its padding and resistant, at the same time soft on any surface . It comes in a set of two strips which have adhesive to hold, being these in turn shock-absorbing and repel water.
These protectors are made of self-adhesive padded foam with Mondaplen. This is a material that helps to absorb impacts thanks to the configuration of its internal structure of cross-linked polyethylene molded in the shape of waves and that on the back has an adhesive strip, which was joined by heat.
To protect the driver and passenger door against scratches, leggero design protectors come in a pair, each of them 1.35 meters in length , which you can cut according to the dimensions you need to fit the doors of your car.
Leggero design is a practical and simple option to use as well as being safe as it is not fire retardant. It is also flexible to help you adjust it where you need it , not just in your car, but on walls or furniture. It is a product that cushions very well and that is perfectly maintained.
TECHNICAL DATA
Length 1.35 meters
Weight 560 g
Cross-linked polyethylene foam material
Pros
It is easy to place on any surface
Can be trimmed to fit where you want to place it
Made of resistant materials that help absorb shocks
Repel water
Eye-catching and convenient design
Cons
Additional glue is needed if you want to install on walls or columns with uneven surfaces.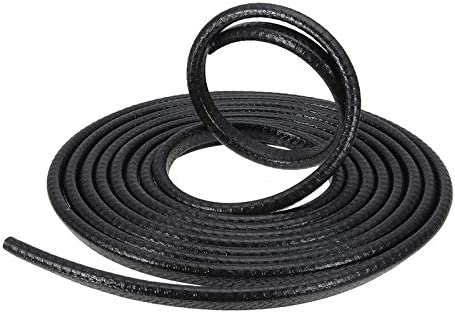 If you are looking for a different option to protect your car, perhaps the MATCC 4m U may like you. This is a side shield that keeps chips and scratches out of your vehicle . This rubber provides strong toughness to protect your car door from scratches.
It is an accessory suitable for all types of car since its adjustment is flexible . Inside it has metal clips to make it more resistant and firm. It is also easy to cut, as well as providing a strong grip on the edge preventing it from coming off.
It can be used on many other parts such as fender trim, car window, and any other metal trim. Ideal to protect in addition to the entry of dust and rain since it provides a hermetic seal, likewise, prevents leaks, gaps and vibrations, at the same time, prevents the air conditioning from escaping, as well as helps to alleviate the impact when the car door closes.
The MATCC 4m U has a length of 4 meters and 2 millimeters thick . It comes only in black. It's easy to install or replace, just put the rubber seal on the spot. It is important that the driver knows the thickness of the edge of the door to avoid inconveniences.
TECHNICAL DATA
Length 2 meters
Thickness 2mm
Rubber Material
Pros
It is placed around the edge of the door
Its installation is carried out on the inside edge of the door
Leaves no residue
Suitable for other applications
It is waterproof and anti-scratch
Easy to install
Resistance against temperature and wear
Cons
Loses its grip when installed and uninstalled
Length reaches for the two main doors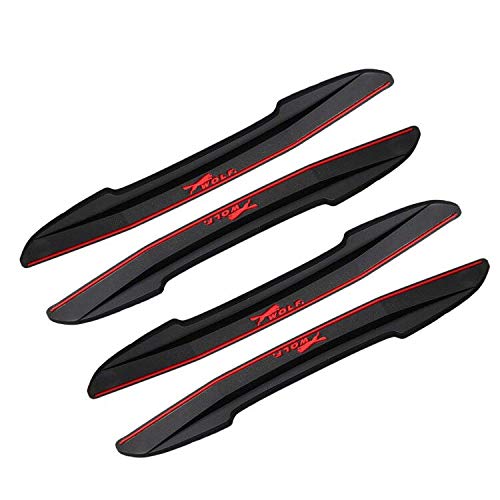 Now it is the turn to talk about the Raiphy protectors, which comes in a set of four with very modern colors for those who like to wear the best. They are available in black with red details with universal adjustment to place it on the surface of any vehicle such as cars, trucks, among others.
Its high-quality materials guarantee excellent protection against small impacts when the car is stopped or parked. It is a safe and stable accessory ideal to avoid damaging the car.
Its adherence is due to its high quality soft rubber that offers good adhesion as it is double-sided allowing it to last longer and withstand high temperatures and pressure washing with the assurance that it will not fall off. 100 brand new and high quality .; Protects the door from small knocks when stopping or parking.  
The Raiphy protectors have dimensions of 14.5 cm x 2 cm so you can place it where you need it. In addition, its discreet but elegant design makes your car look sophisticated at the same time that it protects it against possible damage.
TECHNICAL DATA
Dimensions 14.5 x 2.0 cm
Weight 80g
Pros
Strong double-sided adhesion
Helps protect the car from minor bumps
Self-adhesive for easy installation
Fit for most vehicles
Comes in a set of 4 units
Cons
Poor adhesion on PVC materials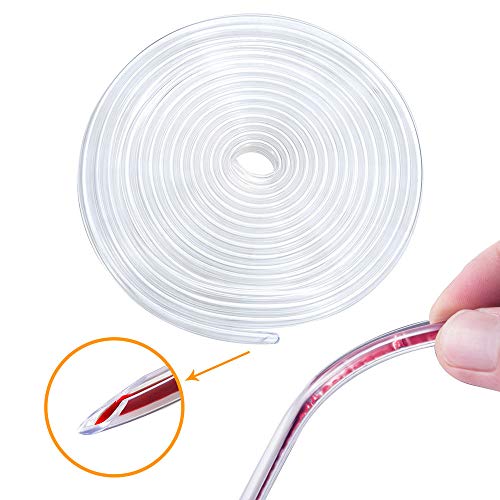 We made it to the bottom of our list with this clear color side car door protector option. It is made of high quality rubber material that helps resist heat and abrasion, while being anti-aging and waterproof with protection against UV rays.
Its slim design guarantees good performance in terms of protecting your car as it has a rubber seal that guarantees care and avoids possible scratches and bumps when opening or closing doors with edges up to 2 millimeters thick.
The Comfleep rubbers have very resistant double-sided adhesive tape so you do not need additional glue; in addition to leaving no glue residue later if you decide to remove it. Also, its manufacturing materials allow it not to melt in very hot climates.
They are easy to install and replace accessories. Likewise, they are protectors that favor acoustic insulation , they are resistant to corrosion, high temperatures and wear, they are anti-aging and waterproof, which guarantees great durability over time.
TECHNICAL DATA
Length 5 meters
Thickness 2mm
Rubber Material
Pros
Resistant against water UV rays, abrasion and wear
Made with high quality materials
With adhesive tape on both sides
Leaves no glue residue
They are easy to install
Cons
It can be a bit expensive
What Should I Buy a Car Door Dent Protector?
These accessories are very useful when it comes to maintaining and caring for our car and that of others. If you are looking for which one to buy but do not know what you should consider to help reduce the options that exist, here we will tell you some aspects that you should consider when buying a car door protector.
As a first tip is to review the opinions of users who have purchased that car door edge protector that you have selected according to your taste. You will realize some of its pros and cons in this way you will help yourself a little by knowing or having an idea of which would be the best for you.
You can also consider aspects such as its design, since there are several types such as magnetic strips, side rubbers that are installed on the edges, among others. Likewise, you must take into account the quality of their materials , they must guarantee that they are resistant against abrasion, UV rays, humidity and high temperatures and that in turn, they do not age quickly and that they are made of flexible material so that you can take advantage of them. more time.
The size also influences , more in the case of the side rubbers, which mostly come with 2 millimeters thick, therefore you have to know the thickness of the edge of the door of your car . The practicality of installing these accessories influences, always choose those that do not need to use other tools or products to install them.
Finally and the most important thing is the power of adherence . There are those with double-sided glue to help firmly fix the protector even when you pressure wash your car, you will also get them with magnetic adhesion, a different option that does not leave residue if you decide to change them.
How Much Does a Car Door Dent Protector Cost?
When inquiring about these accessories you will be able to observe that their price varies according to the characteristics they have, as well as the brand in which they were manufactured. However, keep in mind that the highest cost is not always synonymous with quality, therefore, do not go to the first when choosing the most expensive or the cheapest. It is always good to evaluate its pros and cons.
The price ranges for these items are varied as you already know, you can find cheap door protectors with prices that range between € 7 to € 12 , which mostly offer good quality at a fair price.
Also, there are those with high quality materials,  good durability and adhesion that are normally found in prices between € 15 to € 25 . You also have to consider that these are thicker accessories such as band protectors that are slightly larger than the side protectors. But you can also find protectors with greater protection capacity whose prices exceed € 60 since they cover practically the entire door of the vehicle.
Best Car Door Dent Protector Buying Guide
Right door edge protector can protect your vehicle from dents and paint chips. However, choosing the best model can be an extremely difficult and time consuming task. To help you find a door edge protector that best meets your needs, here are a few factors to consider before finalizing your purchase:
Length or size
Perhaps the most important factor to consider when choosing a door protector is the length you need. The length and size of a roll or spool can vary from just 13 feet to 32 feet and beyond. Some models also include individual strips that can be placed anywhere on the door.
If you only plan to protect the driver's side door, you won't need a long spool and only need one strip. However, if you want to protect each door or cover more space on the door, additional strips or more material will be needed.
Equipment
Door edge guards are usually made with a rubber or durable plastic material to absorb shock. While plastic may seem weak, it's actually able to withstand knocks and pressure. On the other hand, rubber is more flexible and can bounce off an object without leaving an impact.
Compatibility
Before choosing a protective cover, make sure that it fits your vehicle correctly. Some models may not be suitable for certain trucks, cars or SUVs. This may be due to the design of the doors of certain vehicle models.
Style
It is quite possible that the door guard you choose will change the whole look of your vehicle. Once the material is installed, the door will be surrounded by a transparent or black trim. It is therefore advisable to choose an edge protection that adds a nice accent to your doors.
Benefits of Car Door Dent Protectors
Protect your vehicle. Car door edge protectors are intended to prevent or reduce the amount of dents and scratches on doors. This works to keep your vehicle free from damage. Since they are attached to the edge of the door, they act as a shock absorber to soften the impact that the door has when it comes into contact with other objects.
Avoid damaging nearby cars. Sometimes it may be impossible to open the door without resting it on the vehicle next to you. A strong gust of wind could blow you towards the other vehicle. With an attached door guard, the chances of it leaving a mark, chip, or paint scuffing are reduced.
Reduce stress. Door sill trims can also reduce your stress levels when entering or exiting your vehicle. You don't have to worry as much about your metal or plastic doors damaging other cars.
Improve resale value. Part of owning a car means you have to take proper care of it. One day, you may want to sell it and any signs of wear and tear can reduce its value. Damage to doors can also cause rust to form, and repair can be expensive. Installing door guards ensures that your vehicle does not develop dents or rust, saving you money and increasing the car's resale value.
Types of Car Door Dent Protectors
Adhesive
The adhesive door edge protection is applied to the door with a powerful and durable tape. It continues as a sticker with double-sided tape. The material can come in a roll that can be cut to fit the entire length of your doors, or it can be a single piece of plastic or soft bumper material. Tape Door Guards feature double-sided tape that is easy to remove and apply directly to the vehicle.
Adhere
These door sill guards are made from a thick, durable rubber material to hold them firmly to the side of your vehicle's doors. There is a small groove that fits snugly into the metal or plastic of your doors to ensure a secure fit. The rubber compound is flexible, allowing it to be stretched into corners or curves.
Car Door Dent Protector Brands
3M
3M began as the Minnesota Mining and Manufacturing Company in northern Minnesota in 1902. It helped create Scotch tape and developed reflective coating for highway signs. Today, he also focuses on car wraps and door protectors to help personalize and protect your car. One door edge protector that they manufacture is 3M Door Edge Protection Film.
ATMOMO
This company is responsible for creating and designing a series of accessories for cars and motorcycles. While ATMOMO specializes in vehicle light kits and effects, they also manufacture a series of trim protectors to ensure your car door has no dents. The ATMOMO Light Black Car Door Protector Bumper Guard is one of their best protectors.
Car Door Dent Protector Prices
Under $ 10: You'll find most tape door guards in this price range. However, each will typically be a thin piece of plastic or shock absorbing bumper-like material rather than a roll or strand of material.
Over $ 10: This is where you will find adhesive and adhesive door protector rolls. These are the most common and perhaps the best for protecting your vehicle. Generally, the longer the roll, the higher the price of the protector.
Where to Buy Car Door Dent Protector?
These items can be found in stores that sell vehicle accessories or in virtual stores . The latter are very useful as they help to consult a variety of products in a short time. However, there is a virtual sales portal that I would like to recommend you and it is Amazon .
This is a highly recognized virtual portal worldwide. Dedicated to the world of product sales for many years, Amazon has become the favorite of many buyers , and no wonder! Its reputation rests on the benefits that give the buyer security and confidence . It offers consultations on a wide variety of products, deliveries in a short time to almost anywhere in the world, makes returns in case the product arrives defective or in poor condition. In addition, you can enjoy discounts and promotions depending on the season.
What are The Best Car Door Dent Protectors?
If you have missed the detailed description of the products mentioned here, in this section we refresh a bit and take the most outstanding characteristics of our TOP 6 on the Best Car Door Protectors :
The SUMEX Dgp1000 carbon band protectors protect your car from possible bumps since they protrude a bit, at the same time that they remain fixed thanks to their self-adhesive that remains firm even after several pressure washes. Although it may be a bit small for some cars, it comes in a set of four units to place it on all doors if you wish, giving your car an elegant appearance. They are good quality and very resistant protectors since they are manufactured under the prestigious Sumex Group that distributes and manufactures products for recognized brands such as: Car +, Acquamax, Pulse, to mention a few.
While the Xcellent Global door protector is a different option given its adhesive and magnetic strip design which does not leave residue on the car if you want to remove it thanks to the fact that it has magnets that are in contact with the door. Although its adherence is not that strong, you can install it very easy, as well as remove it since it is malleable and easy to cut according to the dimensions you want to protect the paint of your car even when you park your vehicle in very small spaces. It is suitable for placing it on other surfaces.
On the other hand, the leggero design is a good alternative if you need more padding against possible knocks on the doors of your car. It comes in two units which are made with cross-linked polyethylene foam, a material that absorbs shock very well , as well as repels water. However, for uneven surfaces it is necessary to apply another glue to adjust its adhesion to a higher one, but this is not an impediment if you need to use it in your car as it adheres perfectly. It is a simple and practical option to use since it is self-adhesive that you can cut according to the length you need.
However, the MATCC 4m U door protector is a different option as it covers the entire edge of your car door. It is convenient to protect not only against scratches and chips but also prevents rain and dust from entering , as well as preventing air conditioning leakage as it provides a tight and strong fit. To install it, you only have to know the thickness of the edge of the site where you are going to place it. Its adjustment is strong and flexible since inside it is made up of metal clips.
On the other hand, the Raiphy protectors suitable for four-door cars adhere easily to the surface of your car doors, this thanks to the fact that it has high-quality soft rubber with double-sided adhesion that helps to fix it strongly and that in turn withstand high temperatures and pressure washing. Although their adhesion is poor on PVC surfaces, they are protectors with a discreet design that at the same time offer a more sophisticated look to your car.
And finally, the transparent Comfleep protector with double-sided tape. It is made of high quality rubber material that allows it to be resistant against heat and abrasion, as well as being anti-aging and waterproof with protection against UV rays, at the same time that it prevents scratches. It is adjustable and flexible suitable for 2-millimeter edges .
Conclusion
If you want one of the best car door dent protectors to prevent scratches, dents and dings, you should definitely consider the True Line Automotive Door Edge Molding Kit . This durable and high quality unit will protect your door from knocks while adding style at the same time.
But that's not all! Its flexible L-shaped molding ensures durability, while its strong 3M adhesive makes installation incredibly easy. However, it is only available in one color, so be sure to browse all of the aforementioned products before finalizing your purchase!