No matter the size of your toolbox, when you want to find the right socket, it is always a difficult job. Usually, when you own a lot of sockets, they tend to pile up on the bottom.
Therefore, to keep your productivity up, storing the sockets and keeping them organized properly is a must. And the better way to do that is with the best socket organizers.
In this write-up we'll cover everything there is to know about socket organizers, how to find the best one of them, and will also suggest some of the top ones in our reviews section.
Summary of Best Socket Organizers
The Top 8 Best Socket Organizers Review
Get a look at the top socket organizers on the market from our reviews below, and have a great time when it comes to picking one.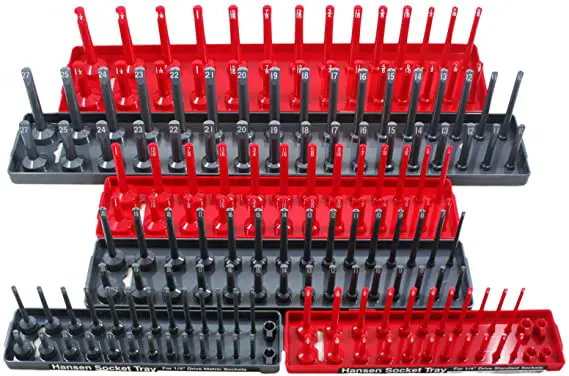 The Hansen Global 92000 is a unique tool with handy features that will help you keep your workplace tidy and on task. Although on a bit pricier side compared to other socket organizers, its longevity and versatility will provide you the best bang for the buck.
As a heavy-duty organizer made of ABS plastic, it will resist all types of chemicals, oils, or gases from harming your tray. This adds to the longevity of your sockets as well.
Another nice feature of this cool organizer is that it has been color-coded for different socket types; red for SAE and gray for metric. Though this organizer misses a few sizes, you can store most of the sockets in it.
The socket posts are also rigid enough to hold the cumulative weight of many socket drives at the same time. Even if you drop the organizer, the posts will hold the sockets in place due to the reinforced thick plastic on the hold.
Pros
Market spaces both in metric and SAE system
Deep and shallow sockets can also fit quite easily on this try
Core trays are made of ABS plastic that resists oil and gas
Thick base is firm enough for the support
Cons
Some brands of sockets won't fit snugly around several of the posts
Why We Like This?
This Hansen Global socket organizer will make it a snap to find any socket you need due to its innovative labeling system. If you are looking for a tray that would accommodate most sockets, then this is the thing for you.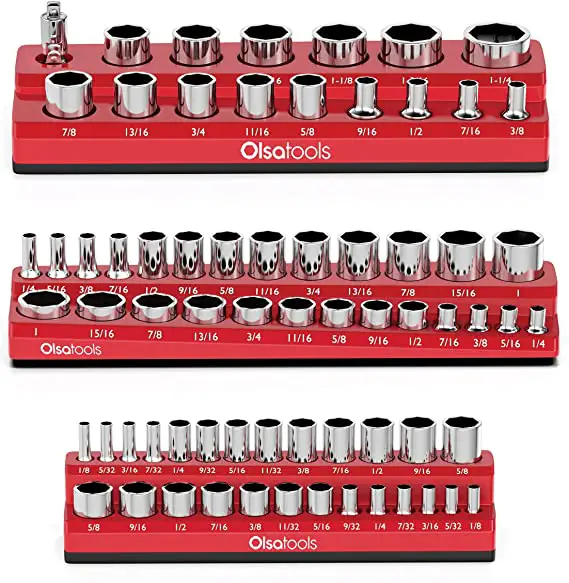 If you don't have much drawer space and having trouble sorting out the socket you need to work with, then Olsa Tools' Magnetic Tools Socket Organizer will clear the clutter for you.
It is a 3-piece socket organizer made specifically for SAE-sized sockets. Capable of holding up to 75 items at a time, it will organize all your 1/4", 1/2", and 3/8" drive head sockets.
Constructed with high-grade polypropylene material, this organizer weighs just 3.91 pounds making it greatly portable as well. The markings of each of the sizes will also let you know where the sockets will go.
But the best feature of this organizer is probably its magnetic ability. Each of the organizing trays has been incorporated with ferrite magnets by Olsa. You can simply place any socket onto its designated space, and the magnet will do the rest.
This Magnetic Socket Organizer also has a rubbery magnetic base that will attach itself to any magnetic surface in any position. You might be wondering, what if the sockets fall off when the organizer is placed vertically?
Well, there is absolutely nothing to fear. You can even turn the organizer upside down, and none of the sockets will fall off. The magnet is strong enough to hold even the deep well sockets just in their places.
Pros
Holds no less than 75 sockets
Has a powerful magnetic base for perfect hold
Base is rubberized to avoid any scratches
Stores both deep-well and shallow sockets
Extremely durable polypropylene material construction
Why We Like This?
If your works require you to have a decent quality magnetic socket organizer that comes with an easy mounting mechanism, then pick this one as the best magnetic organizer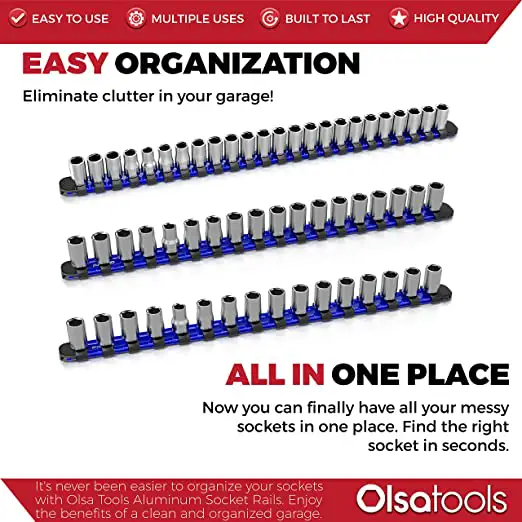 Next in line is the super portable organizer from Olsa Tools. Olsa makes second entry to our shortlist due to their sheer quality and types of socket organizers on the market.
This best tray organizer can hold up to 80 sockets in a wide range of types for all your extensive as well as complicated projects. Having four rows with three dedicated to driving sizes, its fourth row can store all miscellaneous socket types.
All of these 4 rails are attached to a metal tray that increases its durability. Besides, the metal handle also allows you to carry it anywhere with maximum ease.
Moreover, the whole thing is constructed with a balance between metal and ABS plastic. The metallic base gives strength, while the plastic clips create a lighter but tight-fitting space for the sockets. Each of the clips also carries a ball bearing, adding to the extra level of protection to the sockets.
However, unlike the previous organizers, you won't notice any labels for the socket sizes in this one. But hey! This allows you to arrange all the sockets however you want!
Pros
Constructed with steel and durable plastic
Can accommodate stunning 80 sockets
Rail system socket organizer to store all socket types
Comes with a ball bearing providing extra protection
Cons
No socket size identification labeling
Why We Like This?
For anyone needing a high-capacity socket organizer, which will also be highly portable, Olsa Tools Portable Socket Organizer Tray provides an excellent option.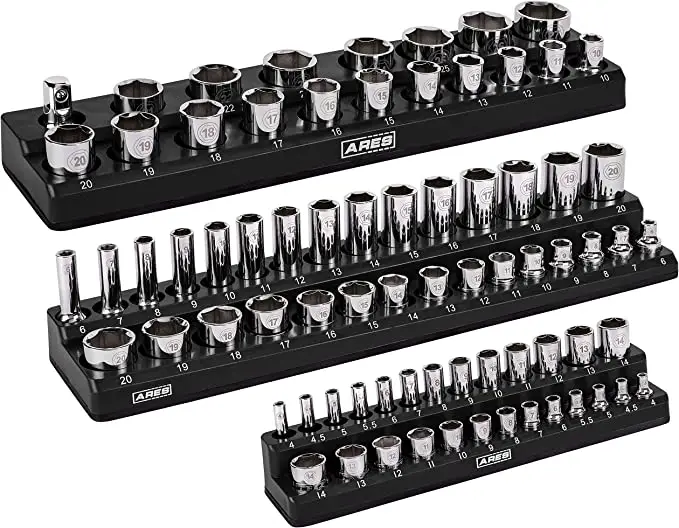 This well-constructed magnetized socket holder can store and organize all of your tools in one place. Capable of storing 75 sockets in its 1/4-inch, 3/8-inch, and 1/2-inch drive, ARES will tidy up your workplace drawer in no time at all.
This spacious capacity means it will make sure you can benefit from the neat organization of all your tools.
Each of the sockets drives in this organizer features a strong magnet that will keep all your sockets firmly put in place. It doesn't matter how you carry or put the organizer, there is no tension of any of the sockets getting damaged.
The bottom of the organizer features a soft and rubberized covering that prevents damage or scratch on the surface it is put on. As for the trays inside, they are made with heavy-duty and impact-resistant plastic.
Pros
Rubberized bottoms ensure no scratch on the surface
Has a compact size and can even fit inside a small toolbox
Can store both deep and shallow metric sockets
Heavy-duty construction and impact resistant
Cons
Few of the spaces are too tight for some sockets
Why We Like This?
ARES 60034 is a rugged organizer that is also a great option if you're low on budget but don't want to compromise on the quality.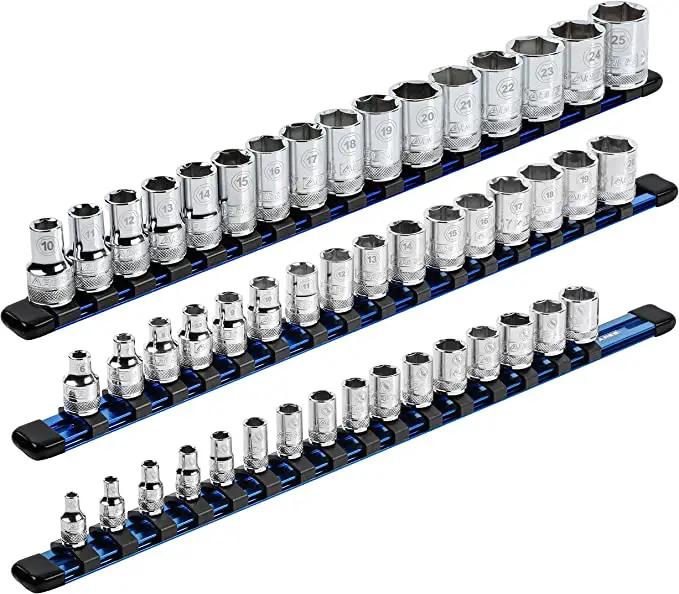 If you're short on budget and want something light and portable, then ARES 60041 is a great item for you. Each of its rails can hold no less than 16 sockets both of metric or SAE. You can easily carry these 17 inches long organizer in you workbag.
Since the organizer is a rail system one, there is no doubt you'll have a great time organizing your tools quite easily as you like. Besides, it is also conveniently customizable for easy retrieval with removable clips. This also allows you to arrange all your sockets in the way that suits you best.
ARES 60041 is extremely versatile and comes with end caps, so you can have easy clip changes. You can mix and match your sockets as you please by putting a few ½-inches with few other ¼-inch sockets.
This amazing and versatile organizer can also be mounted on the wall.
Pros
Has a nice capacity
Quite secure and sturdy
Very light and portable
Socket rails are customizable
Cons
Holder slides down on a vertical position
Why We Like This?
Are you just an occasional DIYer owning only a few sockets? If you want something very light and portable, then this set is the best rail option for you.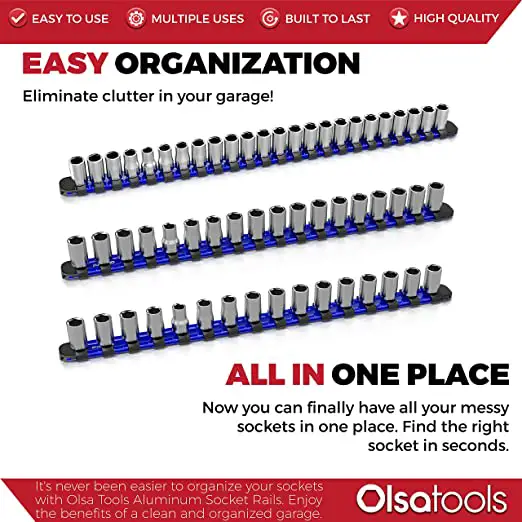 This three-piece set aluminum tool kit is a great organizer for mounting on the wall and easy retrieval. Made of heavy-duty metal, it won't undergo much wear and tear even if used in a commercial space.
Now, the three rails of this set each measure 17 inches long. They can hold 16, 18, and 20 of ½ inch, 3/8 inch, and ¼ inch sockets, respectively. You can comfortably fit this item in any toolbox you want.
It comes with a spring-loaded ball bearing which prevents any shaking caused due to moving. This adds security and firmness to the sockets, and so you don't lose them easily.
But the top reason why we would recommend this item is that it will provide you with the best for value. Among the items in our list, this Olsa Tools three-piece set is quite budget-friendly.
Pros
Rails are well designed
Heavy-duty construction
Secure grip and provides security
Heavily customizable
Cons
Rail might feel too thin sometimes
Why We Like This?
If you are looking for a way to safely display and get access to all your sockets but also in a not too organized way, then we recommend this set for you.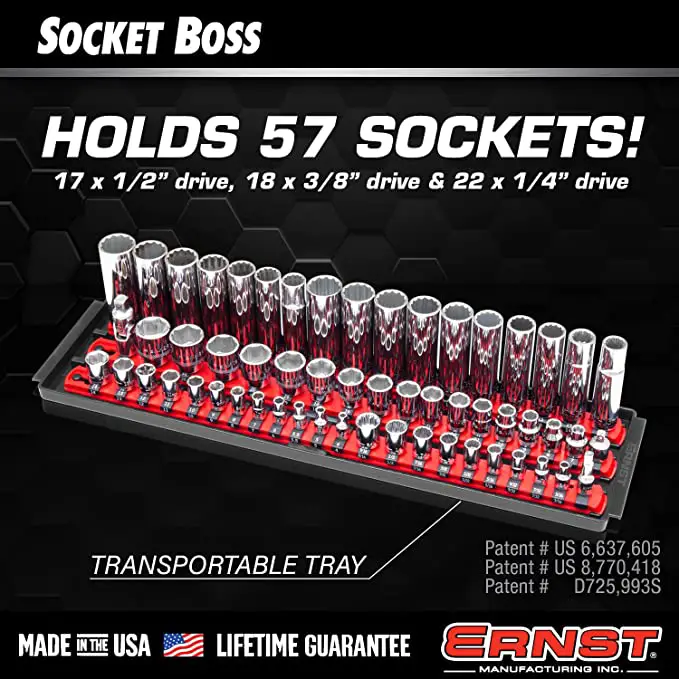 The Ernst socket organizer helps you neatly organize all your precious sockets in a 3-rail tray. Able to carry as many as 45 sockets at a time, this item will be a fantastic addition to any garage.
The 8451A Socket Organizer features a metal twist lock that secures all the sockets in the clips from falling. This makes the sockets so secure that you can even hold the rails upside down without worrying about them falling off.
Another attractive feature of this socket organizer is that this one comes with ID stickers to let you identify all your socket sizes. There are in total 96 identification tags with it covering metric, SAE, and even Torx sizes.
Pros
Socket drive measurements are labeled
Both shallow and deep well socket accommodation
Secures firmly allowing seamless transport
Twist and lock clips for secured sockets
Why We Like This?
The Ernst Manufacturing 8451A Socket Organizer could be the best overall item on our list. Besides, in terms of being good with workbench or toolbox, it beats all others on the market.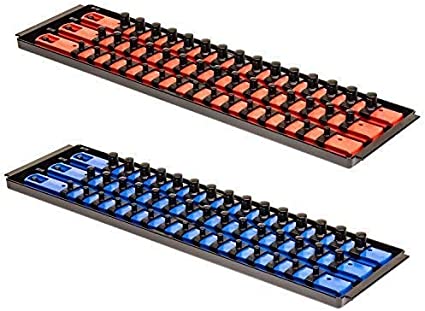 MLTOOLS looks almost the same as our previous Ernst organizer. However, there are some differences in what they offer. For one, this organizer tray comes in a set of two, and both can hold up to 90 sockets!
This color-coded organizer can carry both metric and imperial-sized tools. Each of the sockets is secured in a twist and lock system, so they don't fall off if they tip over.
Each of the trays contains three socket rails, and each rail features 15 clips for the sockets adding up to 90 socket capacity in total.
With this many sockets together in a place, you don't have to worry about identifying them. Because MLTOOLS also features a nice labeling system keeping your sockets straightforward.
Pros
Unrivaled capacity of 90 sockets
Twist and lock system for secured sockets
Individual clips can be removed for more customization
Socket labeling for easy identification
Cons
Only great for professional applications
Why We Like This?
This is a nice option for you to consider if you own many sockets and one of those who are often on the go. It is undoubtedly a highly versatile and durable socket organizer that will last a lifetime if you take care of it well.
Why Do I Need a Socket Organizer?
While doing any kind of repairing works, you'll always need various types of sockets. Storing these many different socket types in a drawer or simply in the usual toolbox is not a very good thing to do.
Because if you don't have them organized, there's a high possibility you might lose one or two of them every now and then. Besides, having the best socket organizer for tool bags with you means you can find the individual socket you need without wasting time.
So never wait until your garage or the workbench is cluttered with all the things of the world distracting you from working in peace. When you have many sockets to work with you can neatly arrange them in the organizer and carefully keep track of each one of them.
All the socket organizer products we've reviewed in this write-up will make your life easy by reducing all the clutter from your toolbox. You can keep your workplace clean with its help. And as you keep using it, the organizer becomes more important every day.
Socket Organizers Buyer's Guide
Since they come in various forms, designs, and features, choosing the best socket organizer for your own specific purpose can become tough. Your own needs might not be the same as someone else's.
So, before buying, consider the key features we explained below that you want the organizer to have.
Storage Capacity
The most important feature to consider while buying a socket organizer is how many sockets it can hold. Think about the number of sockets you own or need on your average day of work. The socket capacity needed for a professional mechanic will not be the same as that of an occasional DIYer.
There are some with just one ratchet with few sockets who like doing their own repairing works whenever they feel like it. For them, only a small toolbox and a smaller organizer will do just fine to bring them out whenever they need them.
If you are one of those DIYers with occasional projects, then look for smaller socket organizers on the market or from our list because there's no sense in wasting your money on a high-capacity organizer.
On the other hand, if you own several dozens of sockets and having trouble often finding the one you need, then this definitely calls for a bigger organizer with a larger capacity.
Those with extensive projects need a lot of extra space for sockets in their organizers since they'll always need to buy newer sockets of different sizes. Besides, it is always better to have some extra space rather than buying another organizer just because you bought a couple of new sockets.
Material
Unlike most tools in a garage, the socket organizer doesn't undergo heavy or rough usage. But that doesn't mean it won't wear or tear with time. Just like any other tool in your workspace, the construction material of the organizer matters a lot too.
It is because a socket organizer carries the combined weight of many sockets, which are mainly made of high-quality steel or any other metal. Sockets are usually heavy, and if many sockets are stored in a single place, it should be hardy enough not to break under the weight.
Besides, a cheap quality socket organizer can significantly reduce the lifespan of your sockets as well. Since the organizer will be under a huge amount of tension, in case of any breakage, the damage will be inflicted on the sockets as well.
Socket organizers made of pure metal are less prone to breaking. But if you are concerned about quality as well affordability, then an organizer with metal trays and plastic clips can strike a balance between the two.
Socket Sizes
Some organizers are designed only for smaller sockets while others only for bigger ones. Remember, those smaller socket organizers are not designed to accommodate multiple sockets simultaneously but rather to store only a specific type, range, and size.
However, manufacturers tend to sell individual drive sizes and also sets of three different sizes of sockets. These sizes are ordered as ¼-inch, ⅜-inch, and ½-inch. So make sure your sockets agree with the organizer before making the final purchase decision.
Markings
When you have many sockets inside a big organizer, it becomes frustrating finding the right sized one when you need it. Many organizers come with labels in them indicating the different sizes of sockets you're supposed to put in specific places.
These markings help you scan through the rows very quickly and get your desired socket. So make sure your organizer has markings inside it to make your life easier. Some organizers include stickers that you can use to label the sockets yourself also.
Customization
Everyone has different outlooks and ways of doing things. So do every socket organizer user. You might have preferences that don't match with another user. Therefore, organizers that offer customization for all users should be preferred over others.
For example, some organizers come in various colors. Besides, the different colored rails also allow you to rearrange the clips according to your wishes. You could also pick those organizers that let you change the order of socket sizes and add or remove clips.
Portability
Some socket organizers are ideal for your workplace or the garage only. You can't move them anywhere. They are usually quite large and can store many sockets at a time.
If you're one of those who are always on the move, then you can't do without a portable organizer. They usually come with clips where the socket drives fit more snugly. These types of organizers also have a twisted lock design that holds the socket even if the organizer is held upside down.
Types of Socket Organizers
Although socket organizers are few in types they have only little differences between them.
Rail system
Inside this organizer, you'll notice clips that slide on the side. These clips are the ones holding the sockets in place. The clips slide onto grooves in the bar creating a rail. That is why it is called the rail system socket organizer.
The best socket rails use durable materials like plastic, aluminum, or steel as bars to act as bases for the socket storage. In this type, the length of the rails ranges between 12 to 18 inches with standard socket sizes like ¼-inch, ⅜-inch, and ½-inch.
With a generous storage capacity and easy maintenance, the rail system socket organizer can also be quite expensive. You can also buy these rails individually or in sets of three.
Socket Tray
This is probably the best option to choose if you want your sockets to be organized based on their sizes. The previous type, however, lacks the labels featuring socket sizes. That's why sometimes it takes a bit of time to find the socket you want.
The best socket trays arrange the sockets efficiently based on metric markings. This tray often has a powerful magnet installed at the base to keep the sockets in place. Moreover, this tray can easily fit in a compact or very small toolbox.
Wall-Mounted Organizer
If you have limited place available in the work area, then this is the one you'll love. You can stock your sockets on the wall vertically with wall-mounted organizers. They save a lot of space on the table too.
Pouch Style Organizer
When you ask for the best portable socket organizer this is the one they show you. Although there isn't much to organize in it you can carry it around anywhere, you like.
The pouch organizers also come in a large array of designs and have separate pockets for tools. Besides, you don't need any installation to use it either.
Magnetic Holder
If you own the best magnetic socket holder then you already know it is also the most secure socket holder out there. Typically made of a plastic frame with built-in magnetic bars, hold the sockets in place. However, it requires more maintenance than other types.
SAE Vs. Metric Socket Organizers
While buying any socket organizer from the market, you might get confused with their measurement scales. You'll notice some having measurements in numbers while others are showing infractions.
The reason behind this is that all socket organizers come in two different measurement types; SAE and metric. Here, SAE is the abbreviated form of the Society of Automotive Engineers.
This SAE measurement type is mostly used by US citizens since they are most familiar with the imperial system of inches and fractions.
On the other hand, the Metric Socket Organizer uses the metric system as the measurement scale, which is most popular in European countries and elsewhere.
You'll find each socket size identified in whole numbers or decimals on the metric system organizers rather than fractions. These numbers are representations of the socket sizes based on millimeters.
The Advantages of Owning a Socket Organizer
Although a very simple device, the best socket holders actually keep all your sockets well tracked. They allow you to organize these tiny tools in order of their sizes or uses. There are many more advantages of owning such an organizer. Some of the most important ones are:
Easy Organizing
This is a no-brainer, really! The most apparent benefit of a socket organizer is that it helps you stay organized. When you have a lot of them, there is actually no way around it. Without an organizer, you'll be frustrated each time you look for a new socket.
Time-Saving
A socket organizer makes picking the desired socket effortless. You can quickly scan over the organizer in a jiffy and take one out. But store those dozens of sockets in the tool bag or the drawer, and just imagine how much time you'll waste shifting through stuff to find the one socket you need.
Easy Load-Outs
When you're setting yourself up to tackle a remote job, you don't have to decide which of the sockets to take and which to leave out. With the best toolbox socket organizer at your disposal, you can carry all of them at once. Besides, carrying individual sockets also increases the potential risk of losing them too.
Saves Money
A good socket organizer will also spare you the frustration of losing sockets now and then and buying a new one. With all the sockets neatly organized, the chances of losing a single one are greatly reduced. Therefore, it saves you a lot of money in the long run.
Frequently Asked Questions
What Is The Best Socket Organizer For Me?
It depends on how frequently do you work or how many sockets you currently own. If you are an occasional DIYer owning only a few sockets, then the ARES 60041 organizer could be your best bet.
On the other hand, if you are a professional person and own many sockets, then the unrivaled capacity of MLTOOLS T8252 is the best option for you on our list.
How to Make a Socket Organizer Out of Wood
Making a socket organizer from wood is quite easy for a beginner DIY woodworker. If you have various-sized hole-saws, then the work becomes much easier. Follow this easy DIY socket organizer video to learn how to do it.
Why Is a Good Socket Organizer Important?
First of all, when you own many sockets, finding the one you need quickly becomes annoying. Besides, you don't want to lose any of those precious sockets, do you? A good socket organizer keeps all the sockets neatly organized with labeling and keeps them firmly secure in space.
How Do You Organize Sockets In a Homemade Socket Organizer?
Homemade socket organizers usually don't have labels or different spaces allotted to different sized sockets. In that case, the best way to organize sockets is by arranging the frequently used ones first then the other ones. You can also organize them by separating metric tools from imperial-sized tools.
How Do I Organize My Toolbox Sockets?
When you need to keep the sockets in your toolbox, the best way to keep them organized is with a toolbox socket organizer. There are multiple different suggestions for that on our list for you to pick one from.
How Do You Store Impact Sockets?
The perfect way to store impact sockets is with the Olsa Tools 3-Piece Socket Organizer on our list. It is great for storing regular sockets as well.
Final Words
There you go! If you're at the end of this article, then you already know about the best socket organizers that are currently available on the market. We reviewed only the best items the brands could offer. In case you can't find one you like, go through our buyer's guide for additional help.